Golden Gate Bridge Suicides - The Net Fact Sheet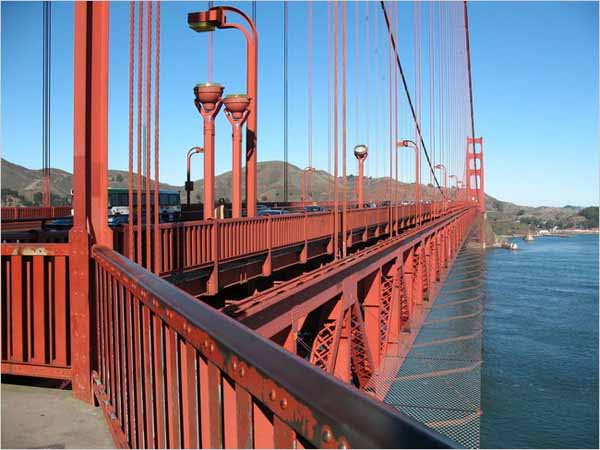 A net will be installed the full length of the Golden Gate Bridge on both the east and west sides. Plans are based on the successful installation of similar nets in Switzerland and New York State.
The net will be strung between steel supports that are spaced every 50 feet along the sides of the bridge. These supports will extend 20 feet out from the bridge and be placed 20 feet below the deck surface. The net also will attach to steel cables that run the length of the bridge.
Because the bridge is exposed to open seas and a harsh, salt-water environment, the Bridge District specified that the net be made of marine-grade stainless steel, which is more corrosion resistant than other grades of stainless steel. The net itself is a custom product and the steel run and net fabrication were ordered at the start of construction.
The net will not sag or ensnare jumpers. Rather, a 20-foot fall into a taught steel net will likely cause painful injury to anyone who jumps. In addition, the weave of the net will make climbing out difficult.
The project also includes rebuilding the maintenance scaffolding on the bridge to accommodate the net. Some sections of railing will be replaced as well, and a fairing will be added to the west side to improve the performance of the bridge in high winds.
Should someone jump into the net, the Southern Marin Fire District will be responsible for rescue. The Fire District is installing a sample of the net in its Marin training facility to ensure that first responders develop the skills needed to rescue someone. The reconfigured maintenance scaffolding also will aid in rescue efforts, although the likelihood of anyone needing to be rescued is small since the purpose of the net is to deter any future jumps.